To ensure customer satisfaction, our company offers a money back guarantee for our products. Wire transfers are partially refundable with deduction of bank transfer fees.
Money back policy – If you are not satisfied with our products, you have the unconditional right to claim and receive a refund within 30 days after the purchase date. No refund is available after 30 days. No repeated moneybacks are available. No moneyback for related offers: additional licenses, multi-license packages, and other purchases on rebate.
Special offers, which include more than one item and which are available for sale on particular occasions, are fully refunded, i.e. every item included is a subject to cancellation. Partial refunds for special offers are not issued.
If money back is claimed before our developer starts working on the project the full amount will be reimbursed. If money back is requested after our developer has started working on the project, the funds to return are determined by the project manager and dependent on the progress of the project.
Money back policy will be honored if a request to cancel the Installation Service Order is submitted before our specialists begin the installation procedure on your system. However, money back is available if our experts determine that it is impossible to install the software in your server environment.
Moneyback for paid technical support services is available only if none of technical support points from this purchase were spent for provision of support services. Partial refunds for technical support services are not possible.
If you purchased The Service Program at a discount, lower than the normal sales purchase price, the software is considered "on sale" and you are not entitled to any discount.
Requested money back we will deduct the amount of consulting services from the amount of the software and refund you the difference.
Conditions are the same as for "Custom development" service.
Money back policy is not available.
A request for a refund must be submitted prior to the 30-day anniversary of your installation date to the Support Help Desk. Requests directed to other contact addresses or phone calls are not accepted for cancellation. You are obligated to make arrangements for one of our support engineers to uninstall the software prior to your 30-day anniversary.
Please notice that before receiving money back, you are obligated to allow one of our customer support engineers access to your system to uninstall The Service Program software and all related files from your PC's and server. Your further use of the software will be regarded as illegal unless you obtain a license once again. Once The Service Program is successfully uninstalled, the refund owed will be applied within 30 business days.
We strongly believe that most of "money backs" can be avoided. Please contact our qualified staff and you will receive professional assistance in any technical issue you have experienced while installing/configuring the software. If you are not happy with our products or services for any reason, you are always welcome to send us your feedback and suggestions on how to improve the software or services we provide. We will do the best we can to ensure you are completely satisfied with our software and customer service.
Get more information about the many benefits of The Service Program and how it can help organize & grow your business.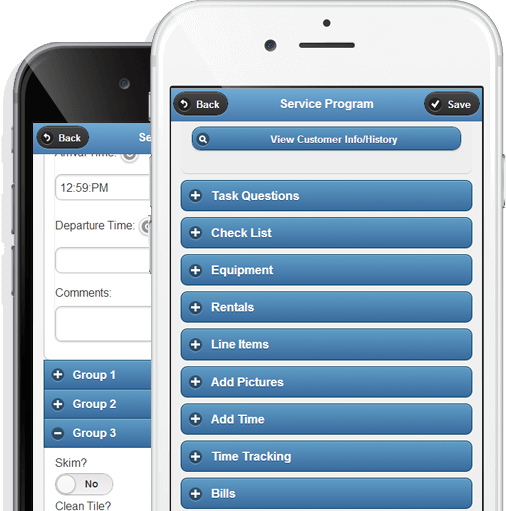 What are you waiting for?
Order The Service Program today!
Increase the communication within your company. Deploy mobile devices. Route more efficiently. Schedule work orders and service calls.