Your ROI With
The Service Program
We realize that purchasing a software program to run your service business is a major decision, not to mention a big expense. Naturally, you'll want to know what to expect regarding your return on investment. Following is a case study that illustrates the value.
Case Study:
Blue Dolphin Pool Service
The Blue Dolphin Pool Services, operates twenty routes with four service technicians. Below we have outlined how they best utilized The Service Program to their advantage for a complete return on their investment.
The Service Program Standard Edition and The Service Program smartphone or tablet Add-on "I have tried other software applications and they were either too complicated or they didn't understand our business process. The Service Program is the only program that is both easy to use and has organized the company the way I always had hoped a program would."
Doug Fleischer – Owner, Blue Dolphin Pool Service
Return on Investment for Blue Dolphin Pools:
We estimate an annual net savings of $35,000 by being more organized, providing better customer service, handling inventory more efficiently, increasing route profitability through improved route management and implementing better invoicing measures. 
We can now easily and efficiently track inventory on service trucks, saving an estimated $25,000 per year in missing parts. Our customers are getting called back an average of 2.5 times faster, resulting in better customer service.
Repair tickets are invoiced an average of 3 days faster than before, resulting in better cash flow and increased accountability. We now have the ability to track who fills in for a given route without having to reassign an entire route if someone is sick or on vacation.
While on site, we can enter information to track chemical usage in a pool, as well as when the route tech arrives and leaves. When the pool has been cleaned or a repair has been completed, we can instantly notify the customer or property manager via email.
Get more information about the many benefits of The Service Program and how it can help organize & grow your business.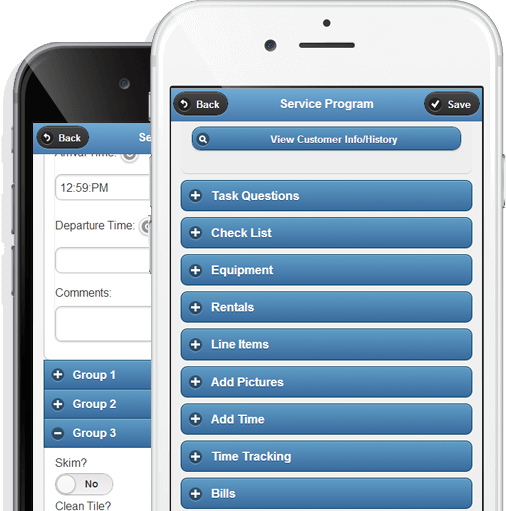 What are you waiting for?
Order The Service Program today!
Increase the communication within your company. Deploy mobile devices. Route more efficiently. Schedule work orders and service calls.