Testimonials for The Service Program
We have thousands of satisfied customers all around the world.
"After using Service CEO software I switched to The Service Program because it is easier to use, seamlessly works with QuickBooks, and adapts to the changing climate of my service business software."
"I am in the pool business not the lawn care business. I was using QXpress but it didn't have the flexibility to track whether or not my tech brushed or vac'd the pool, or how much chlorine or acid they used. The Service Program tracks all that and more. They can even enter it on their handhelds in the field."
"I am able to track all my portable toilet rentals and seamlessly bill them right into QuickBooks. It can even prorate a pot when I do a return! I was billing in the rears. The Service Program showed me how to bill in advance and on a 28 day cycle. Not only did I not lose any customers I also am making more money! "
All I used before The Service Program was just QuickBooks and Spreadsheets. The Service Program now gives my lawn maintenance crews the ability to task the office when they see a problem at a site. They record when they arrive at a stop and when they leave. Our service department can even signature capture on their PDA when they do installs! It's Great! "
Get more information about the many benefits of The Service Program and how it can help organize & grow your business.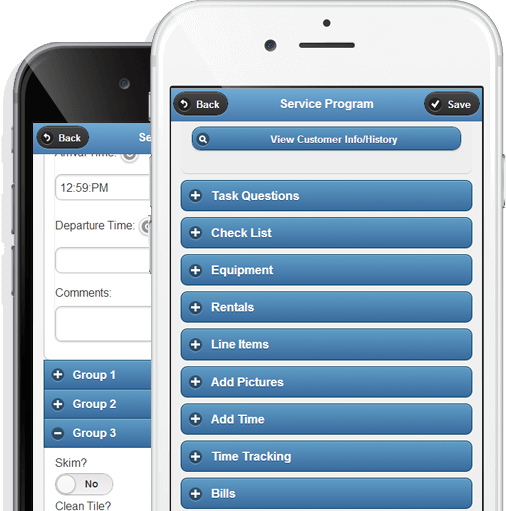 What are you waiting for?
Order The Service Program today!
Increase the communication within your company. Deploy mobile devices. Route more efficiently. Schedule work orders and service calls.