Lawn Care Business App Software for QuickBooks™
The Service Programs lawn care app allows users to see and interact with the office in many ways. Not only can crews see their route schedule and create route tickets when they service stops they can also take pictures of problem areas and open work orders in the office while onsite!

Best of all this Lawn Care app integrates with QuickBooks™. You can have the peace of mind knowing that your crews and maintenance people cannot change anything in your QuickBooks™!
Explore Features of The Mobile Solution developed for the Lawn Care Service Industry.
(click on a feature below to learn more)
Easily schedule route stops for any frequency. Schedule unlimited, recurring services such as weekly mowing, pruning and spraying.
Map and optimize your stops with GPS mapping and tracking powered by Google.
Enter customer details for each stop location. Track crew time. Create work orders and enter pesticide applications.
Easily track work orders/tasks so nothing slips through the cracks.
Chemical Applications & Checklist
Lawn crew can enter stop notes, pesticide and herbicide details, view readings, add pictures and more, keeping your business on track and running efficiently.
Line Items, Pictures & Signatures
Email or print details to the customer, improving efficiency while increasing customer satisfaction and retention.



Take before and after pictures for proof of service. Track crew time. Invoice monthly, by the cut and more!
Get more information about the many benefits of The Service Program and how it can help organize & grow your business.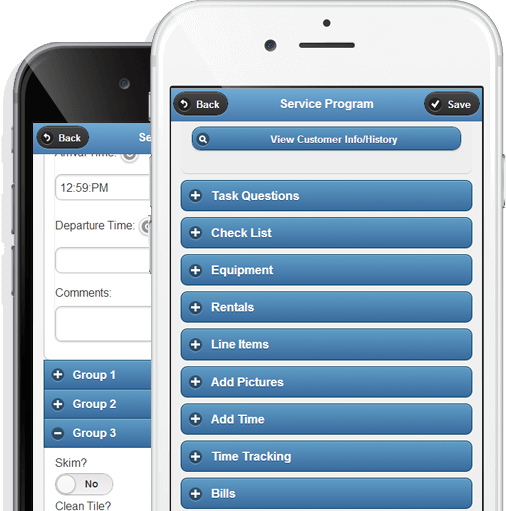 What are you waiting for?
Order The Service Program today!
Increase the communication within your company. Deploy mobile devices. Route more efficiently. Schedule work orders and service calls.